Ennichisai 2013
is an annual traditional Japanese festival held at Little Tokyo Blok M, Jakarta. The two-day festival will take place on May 25 and 26 2013. This festival, organized by Blok M Estate Management and Ennichikai Blok M Team, attracts up to 200,000 visitors each year and has been one of the tourism agenda of Jakarta.
A Tribute to ONE OK ROCK held during this festival, thanks to ONE OK ROCK INDONESIA and participated by four band:
Fairy Tails (Bandung)
The Proudly Present (Medan)
Onizuka (Jakarta)
Chronograph (Jakarta)
This tribute purpose to show ONE OK ROCK and their agency to come over in Indonesia, because many of their fans really want to watch them live.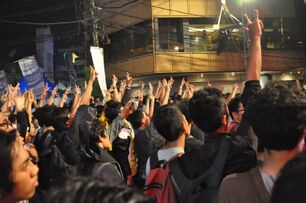 The proper setlist and which band played the song is unknown.
Let's take it someday
Juvenile
Nobody's Home
C.h.a.o.s.m.y.t.h.
Re:make
The Beginning
Wherever you are
Clock Strikes
69
Nothing Helps
NO SCARED
Kanzen Kankaku Dreamer
Answer is Near
Mr. Gendai Speaker
You can see the official photoshot from Ennichisai official page here .
External Link
Edit