Toru
Personal Info
Name (Kanji)
山下亨
Name (Romaji)
Toru Yamashita
Born
December 7, 1988
Birth place
Osaka, Japan
Bold type
O
Occupations
Musician, composer, actor
Years active
2000 - present
Labels
A-Skech
Associated acts
HEADS
ONE OK ROCK
Relationships
Friends
Taka
Tomoya
Ryota
Yamashita Toru (山下亨) is the guitarist of the Japanese rock band ONE OK ROCK. He was in the hip-hop group HEADS along with Ryota before they disbanded in 2002.
HEADS and his career before ONE OK ROCKEdit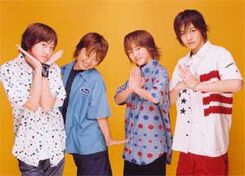 Toru Yamashita was born in Osaka, Japan before moving to Tokyo. Ryota Kohama, a fellow member from ONE OK ROCK, is his childhood friend. They met together with two other members: Kohei and Takuya formed a hip-hop dance group HEADS when they were fifth and sixth-graders. They were also active before their debut and participated in dance competitions around the years of 1995–1999. They debuted with a single entitled "screeeem!" in July 2000 and followed by the second single "Gooood or Bad!" in November, produced by a popular musician under the label Amuse, Inc.. The dance group made a performance every weekend on busy streets in Osaka's Kyoubashi and Tokyo's Akihabara, shopping, and amusement districts.
HEADS disbanded in 2002 and in 2003 they took a break to improve their abilities. At this point, HEADS as a four member group ended. They merged into a new group with seven other members and were called GROUND 0. In 2004, Toru and Ryota continued their activities as GROUND 0. In 2005 Toru tried to explore his experience and took a main role in TV series Shibuya Fifteen and played as Ryuugu. He also become a cameo as a high school student in Kamen Rider Hibiki.
2005-2009: Band formationEdit
The foundation for ONE OK ROCK began when Toru, a high school student at that time, wanted to start a band. He told his friend Ryota, a fellow member of the hip hop dance group HEADS, to learn the bass and asked Alex, who was their senior in school to join. He asked his classmate Tomo to play drums, who then left the band in 2006 to pursue an acting career. At that time, Taka was playing with another band named Chivalry of Music; however, Taka didn't enjoy playing with them, so Toru insisted that he join the band instead. At first, Taka refused despite repeated attempts to sway him, but eventually he joined the band. Tomoya had been teaching at ESP (Musical Academy) and was already in a band that wasn't going well. He then joined One Ok Rock in 2006, but only became an official member when they debuted in 2007.[1][2]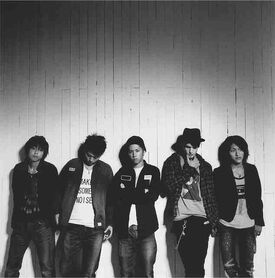 In 2007, the band's debut single, "Naihi Shinsho" followed by their second and third single. Then they released their debut album "Zeitakubyou" and had their first tour, the Tokyo-Osaka-Nagoya Quattro Tour. They released their the second album "Beam of Light" in May 2008. When they made the album, they hadn't been in the right mood, but felt that they had to make it to grow as a band. The band came up with many sound sources and ended up making a punk album. The album's confused origins were the reason why they wouldn't play any songs from "Beam of Light" in live performances until now. Shortly after releasing Beam of Light, they performed a gig at Shibuya AX.[3] That album was followed by Kanjou Effects. At this point the band had gained more experience and were able to do some more serious recording. On April 5, 2009, Alex was arrested for groping the leg of a twenty-one-year-old female student on a train.[4] He admitted to the charges and the case was settled out of court. The band reached their weakest point at this time. In May 2009, it was announced that One Ok Rock would continue on without Alex, who went back to the United States.[5] Toru took his place as lead guitar, and the band re-arranged their songs to be played for one guitar.
2010-2012: New FormationEdit
In 2010, with the new four-member formation, Toru together with the band released the single "Kanzen Kankaku Dreamer" and followed by their fourth studio album, "Niche Syndrome". They had their tour This is my own judgement! in five Zepp music halls across the nation in 6 days, starting Sendai, Osaka, Nagoya, Fukuoka and ending in a 2-day concert in Tokyo. The second part the tour took place at sixteen different venues until 11 December 2010. They held a final performance in Nippon Budokan, Tokyo on 28 November, followed by the release of a concert DVD "This is My Budokan?!" on 16 February 2011.[6] On August 6, 7 and 8, ONE OK ROCK headlined Rock in Japan Festival and Summer Sonic Festival, followed by Rising Sun Rock Festival, Monster Bash, Treasure05X, Mad Ollie, Countdown Japan 2010/2011, and Radio Crazy.[7]
Toru often changes his hair-style in the period of time, and dyed his hair to blond in 2011.
In 2011, their next single, "Answer is Near", was released and had the Answer is Alive 2011 tour and took place in six Zepp music halls and three other venues from April to June 2011. The band released their first double A-side single "Re:make / NO SCARED". The band's fifth album, "Zankyo Reference", was released. ONE OK ROCK announced fourteen dates between November and December 2011 for the Zankyo Reference Tour. The band also announced their final tour for this album as a two-day concert in Yokohama Arena on 21 and 22 January 2012. This was their first time playing in Yokohama Arena, the biggest venue in Kantō region. Later, the documentary of the Zankyo Reference Tour and the performance from the second night in Yokohama Arena was released on Blu-ray and DVD on 30 May 2012.[8]
In 2011, Toru and the band headlined many music festivals, including Jisan Valley Rock Festival in South Korea. In July the band headlined SETSTOCK 2011 and Jisan Valley Rock Festival, followed by Rock in Japan Festival, Rising Sun Rock Festival, Summer Sonic Festival, Monster Bash, Sky Jamboree, and Space Shower's Sweet Love Shower. At the end of the year, they headlined Radio Crazy and Countdown Japan once more.
The band declared their first overseas tour in Start Walking The World on May and June 2012, covering Japan, South Korea, Taiwan, and Singapore.[9] They headlined Rock in Japan Festival on the main stage, as well as Summer Sonic 2012, alongside Green Day, Franz Ferdinand and Rihanna.[10] They also headlined Oga Namahage Rock Festival, Rising Sun Rock Festival, and Sweet Love Shower.11
2013-2014: Worldwide TourEdit
Their next single, "The Beginning", and won two awards - "Best Rock Video" from the MTV Video Music Awards Japan 2013 and a second award as Best Your Choice in Space Shower Music Video Awards. Currently "The Beginning" is the most popular song by the band, having reached more than 146 million views in their YouTube channel, and became the most watched Japanese rock video, further skyrocketing ONE OK ROCK's popularity.
The single "Deeper Deeper / Nothing Helps" was released on January 9, 2013 and hit 2nd place on the Oricon charts and followed by their sixth full-length "Jinsei×Boku=", and released on March 6, 2013.
In October 2013 the Toru and the band went on their first tour outside Asia and visited Europe for five concerts. In February 2014 they visited the US to hold two concerts in New York and Los Angeles and added two more dates in Philadelphia and Toronto in May. They also performed at Rock on the Range in Columbus, Ohio, their first festival outside Asia. In June and July 2014 they joined VANS WARPED TOUR 2014 and performed in eighteen cities in North America.
ONE OK ROCK released new single "Mighty Long Fall / Decision" in July 30, 2014. In September 2014, ONE OK ROCK held a 2 day stadium concert in Yokohama Stadium in front of 60,000 people called "Mighty Long Fall Live at Yokohama Stadium 2014". This was their first time performing in a stadium.
Toru along with the band announced USA, South America and Europe Tour in late 2014. They will be performing at Knotfest, in both Japan and United States, with an additional two dates for the United States in October.[11][12] They will hit Chile, Argentina, Brazil, Peru and Mexico for South America in November and France, Italy, Switzerland, Germany, Denmark, Sweden, Netherlands, Belgium, United Kingdom and Russia for Europe in December.
2015: 35xxxv, World Tour and U.S. DebutEdit
On January 2015, the band's Official YouTube Channel released the music video of the album's third track "Cry out". They released their seventh album, "35xxxv", on February 11, 2015. The fans described this album, including the Cry Out music video as "too Americanized", yet it managed to get the first place on the Oricon Album weekly ranking being the first time the band achieved the first place.
They held the ONE OK ROCK "35xxxv" JAPAN TOUR. The tour started on May 9, 2015 in Shizuoka Ecopa Arena with their support guests.
On May 25, 2015, Toru together with the band announced that they will add two more shows on the tour that will held on September 12-13, 2015 in Chiba Marine Stadium, Makuhari Messe.[13] In May 27, 2015, It was announced that ONE OK ROCK will perform, along with the other bands, in the fourth annual Monster Energy Aftershock Festival on October 25, 2015.[14] In July 2015, Toru confirmed that they signed with Warner Bros. Records and planned to re-release 35xxxv as a deluxe edition containing all English tracks on September 25, 2015.[15] Toru along with the band is set to have a North American tour in fall 2015 with a few selected cities as headlining artists, but will spend the majority of their time as the opening act for All Time Low and Sleeping with Sirens.[16] ONE OK ROCK will also have world tour in Europe and Asia to promote their album.[17]
ONE OK ROCK held a project called ONE OK ROCK, Yahoo! MV appeared in 24 cities around the world in the search (ONE OK ROCK、Yahoo!検索で世界24都市のMVが登場). In September 10, 2015 morning at 1:00 "Yahoo! Search" special project of ONE OK ROCK started. When you search "ONE OK ROCK" in "Yahoo! Search," you will find 24 types that change by time the release of "One o'clock" special movie. Twenty-four cities that appeared in the MV are Japan, Nepal, Moscow, Iceland, Brazil, Colorado, Gambier, Antarctica, Shanghai, India, Paris, Cape Verde, New York, Vancouver, Hawaii, New Caledonia, Bangkok, Iran, London, Greenland, Mexico, Alaska, Niue, and Sydney. It will display "1:00" and the city and carries the message "One O ' clock (ONE OK ROCK)" on the border.[18] Two days after this project, the band released a Music Video for the 35xxxv Deluxe version of Cry Out. The song was in all English lyrics.
ONE OK ROCK started their "35xxxv" North American Tour on September 29, 2015 and ended on October 06. This tour was immediately followed by BACK TO THE FUTURE HEARTS TOUR. ONE OK ROCK became a support act in this tour along with Sleeping with Sirens and All Time Low.[19] Toru went to many places and learned new music ideas from the other bands. On the week of October 17, 2015, 35xxxv (Deluxe Edition) debuted at #20 on Billboard's Heatseekers Albums and its highest peak position is at #17.[20] This chart is for new and upcoming musicians, which is usually a stepping stone towards Billboard 200 or Billboard Hot 100.
On December 02, 2015. ONE OK ROCK 2015 "35xxxv" Europe Tour started with We Came As Romans as a special guest.
Toru along with band returned to Japan next year for their ONE THOUSAND MILES TOUR 2016 concert along with All Time Low and PVRIS.[21]
2016-present: New single, New album and more gigsEdit
ONE OK ROCK started their "35xxxv" Asia Tour on January 14, 2016 at Asia-World Expo and ended on January 22, 2016 at Fort Canning Park. They returned to Japan after the tour to perform on ONE THOUSAND MILES TOUR 2016. On February 2016, they announced that they will have another tour in North America and Europe. ONE OK ROCK went to United States and started working with with Colin Brittain, Kane Churko, Dark Waves and Bruno Agra to make new songs.
On March 11, 2016. ONE OK ROCK released a new digital single called "Always coming back". The song was first heard in NTT Docomo's television commercial for iPhone 6s.
ONE OK ROCK started they're tour in The Regency Ballroom, San Francisco, California. A day after that, the band performed in Self Help Fest 2016 at San Bernardo, California. After that day, Monster Energy Outbreak Tour continued and ended at House of Blues, Chicago, Illinois on April 18, 2016. ONE OK ROCK went back to their studio in Los Angeles California to continue working on their new album. In May 2016, they went back to Japan and performed in METROPOLITAN ROCK FESTIVAL 2016. In May 31 to June 08, 2016, they toured in Europe and participated in Rock am Ring and Rock im Park.[22][23]
In June 10, Toru and the band went to Landgraaf, Netherlands to perform at Pinkpop Festival.[24] On June 11, they went to France to perform at the first Download Festival at Longchamp Racecourse in Paris.[25] The next day, they went to the United Kingdom to perform at another Download Festival in Donington Park, England.[26]
In June 30 to July 31, the band joined 5 Seconds of Summer on the first North American leg of their Sounds Live Feels Live World Tour along with the band Hey Violet.
Marking the 10th anniversary of My Chemical Romance's album The Black Parade, Rock Sound announces that there will be a special cover of the said album inviting some of the world's biggest bands, including ONE OK ROCK. The band covers the opening song on the album "The End".[27]
On September 10 and 11, the band held a special live concert at Nagisaen, Shizuoka, Japan where 110,000 spectators experienced a thrilling concert. ONE OK ROCK also announces that they're going to release a digital single called "Taking Off" on September 16, 2016 under Fueled by Ramen. The song was used as a theme song for the Japanese movie "Museum" starring Shun Oguri. The movie will be aired on November 12, 2016. Later at the special live concert, Taka announces that their 8th studio album will be released early next year following an album tour.[28][29][30][31]
After signing with Fueled by Ramen[32] on September 11, 2016, they released the lead single "Taking Off" from their eighth album, Ambitions, to be released on January 11, 2017. On November 18, 2016 they released "Bedroom Warfare" the second single from the album. The third single "I was King" was released on December 15, 2016. Ambitions will have collaborations from Avril Lavigne, Alex Gaskarth and the Australian band 5 Seconds of Summer.[33][34]
On November 19, ONE OK ROCK went to South Korea to held their ONE OK ROCK 2016 Live in Korea at KBS Arena. On November 22, the band then went to Shanghai, China to held their ONE OK ROCK 2016 Live in Shanghai at Mercedes Benz Arena. On December 22, ONE OK ROCK went to Fukuoka, Japan where Taka and Toru promoted their upcoming album "Ambition".[35] After that day, the band participated at AIRJAM 2016 that was also held in Fukuoka.
Musical Equipment
Edit
Main article: Toru's Gear
Toru often uses many different kinds of Gibson Les Paul guitars ever since the start of One Ok Rock's career, but recently he frequently used PRS Guitars. He started out with a Gibson Les Paul Standard Black and then purchased a Les Paul Custom Alpine White in 2009. Four years later, this guitar was signed by the members of Fall Out Boy on the front side and Avril Lavigne on the rear side. Toru first seen using PRS Guitars during the band final tour at Nippon Budokan in November 2010.
He serves as the leader (even though he's one of the youngest).
He was friends with Ryota before the band.
He is the only member who doesn't have any tattoos.
External links
Edit
Reference
Edit
Community content is available under
CC-BY-SA
unless otherwise noted.