Credits for the translations for Dessy.
Translations
Edit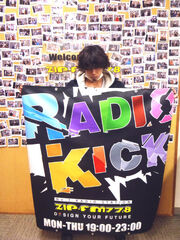 If you had a shop, what kind of shop would it be?
Ramen shop. It's kind of a place where I communicate with the band (members). I wanna try to make it steadily from the first.
March 25 is dramatic day. What's your dramatic personal experience?

The story about how I get into the band. Because Toru insistently kept inviting me that I can be here right now. His insistence at first made me have a bad impression of him, but in the end I was moved by his passion.
What thing did you learn from mixing engineers?

From us who got influenced by Western* music, we're glad to be able to get our work mixed by persons who understand the real sound more than Japanese (mixer) who aims for Western sound so the work got closer into our ideal.
Suggestion to band who follows ONE OK ROCK (to the band who does cover of ONE OK ROCK's songs)

I think it's better to do favorite song. It's also good to get more inspirations from another band. But first of all, it's important for the band to have their own desire to be able to express themselves.
About the tour

Doing the tour will finally make a completion of (making) this album. Then we also hope for fans who came to our lives to be able to find what they should bet their life on.
Things you want to do next

To become one soul with the band. I want to keep continue doing everything I want to do that will make the band keep running through
Next talk is about album title and so many songs with English lyrics that have been said in most interviews
External Link
Edit