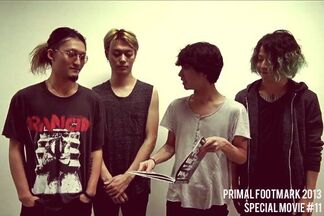 This is the last PF special movie in the year 2013. In this movie they talk about their tour in Europe and Asia. They loved it so much. This movie recorded in the backstage right before the gig in Taiwan started. Also they introduced the new PRIMAL FOOTMARK 2014. 
Translations
Edit
Credit for the translations to Dessy.
Taka : Hello, Primal Footmark viewers, we're ONE OK ROCK.
Tomoya : Hello!
Taka : Eeh, this year is about to end soon, and this time… well, we're now in Taiwan and got the chance to take this comment in the backstage before the show!
This year we did many things; we went on tours, to Asia and Europe, a joint gig with Hormone, festivals, recording, and then… ah, we also did Tohoku Livehouse Daisakusen, the acoustic tour. I think it was the year we really did so many things.
We'd like everyone to take a look at that one year through this Primal Footmark, since we put a lot of stuffs in this photo book. Next year will be different (with this year) and we're gonna do more, new thing that will give a visible result which is a sum-up of various stuffs and unique we can bring to everyone. Well this year, we were supported by so many people that we made it here. And next year, we're gonna try harder and want to be bigger so please keep supporting PRIMAL FOOTMARK and ONE OK ROCK in the future!
Since there's everyone here, do you have one picture which is your favorite?
Ryota : I fancy all of them.
Taka : It's pretty much my favorite stuff.
Tomoya : Very cool.
Ryota : Somehow it brings back good memory…
Taka : You're right.
Ryota : It's awwesome, really. It's like a year ago.
Taka : Makes us surprised.
Ryota : This time my hair is so short.
Taka : Well, since you can see many kinds of ONE OK ROCK, please be sure to check it out! That's all! We're ONE OK ROCK!
External Link
Edit