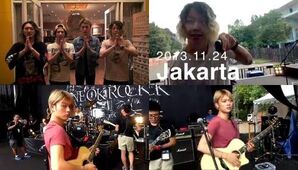 This PF Special Movie divided into two parts. 
In the opening, they talked when they were in Thailand. 
The other part taken mostly in Jakarta, during their checksound before the gig. 
In Thailand, this movie recorded after they arrived in Thailand, right after dinner.
 In Jakarta part, the whole video mostly narated by Ryota, commented about what other members doing. He also shot some lucky people who take a peek to the stage and say hi to them. 
Translations
Edit
Credits for the translation for Dessy.
Thailand (Opening)Edit
All : Sawasdee krab~
Taka : We're ONE OK ROCK.
Ryota+Tomoya : Hello!
Taka : Hello, Primal Footmark viewers! We're now arrived in Thai.
Toru : We're coming to Thailand!
Taka : The show is tomorrow though. So far we've been fully enjoying Thai
Ryota : It's fun! Tomoya : The foods are also yummy
Taka : The foods are yummy eh! Thai's live will be finished tomorrow, and we'll stay…
Toru : in Malaysia
Taka : Yeah, Malaysia. Because for the time being Bangkok is the place where we stay in longest time, we will enjoy it to the fullest and make good memories!
Tomoya : Yup 
Taka : Well then! Since there's no time left, good bye!
Ryota+Toru : Bye bye
Tomoya : Bye!
Jakarta 12.24.2013Edit
Ryota : We're in Jakarta~ Primal Footma-
Tomoya : I'm taking you who are taking video
Ryota : Stage in Jakarta. Bam! Here's Toru. Who looks getting into what he's doing.
Taka…everyone it's Taka, y'know~ Taka y'know~
Mori-chan's gonna hit the drum.
My spec* called Ampeg…
(to peeping fans)Hi~♥
Eeh, I'm the one who was taking the video. Tomo-kun took a different video with his…you're doing too much!
Tomoya : *laughs* It's my role! This is my role.
Ryota : Okay, rhyme up (the word) "Jakarta"
Tomoya : Jakarta?
Ryota : Jakarta.
Tomoya : Well, Jakarta. Ah. "Yo-roppa de orera ga yatta no ha Batakuran" (The place we did in Europe called Bataclan). Yeah!
Ryota : *laughs*
Tomoya : "Infumu noha katakuna ni kyohisuru ze" (Rhyming up [words] is the thing I'll keep refusing)
Ryota : So cool, really!
Translator NotesEdit
spec = I don't know the exact word for this. I heard this as スペクと (spect) and 23chan heard it as スペック (spec) but I think spec here means "specification"
External Link
Edit
Community content is available under
CC-BY-SA
unless otherwise noted.