Credits for translation for Piximi. Credits for magazines scans also for Piximi.
Translations
Edit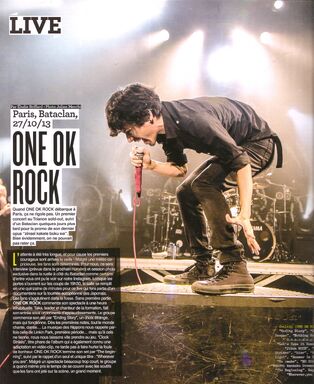 The coming of One Ok Rock in Paris is not a joke. Their first concert at Le Trianon was sold-out and next days after this one they did a second show at Le Bataclan for promoting their new album « Zinsei kakete boku wa » (YES, the journalist wrote the title wrong)
The waiting has been very very long, the first fans were arrived in the night of the day before ! Tough a bad weather fans were really determined. For us - The mag My Rock - it would be an interview and a photo session with the band which will be publied in our next mag. When the doors are opening at 7 PM the room fills up very fastly for this concert filmed to be part of a documentary about their Euro-Tour. Without a guest part, ONE OK ROCK begins their concert at an unusual hour. Taka, the leader and vocalist of the band, make his entry under a thunderous of applause. The bands begins his set by « Ending Stor », strange choice, but it works. Since the first note, everybody sings, dances… the music of these Japanese reminds us the band Linkin Park at their beginning… but we get into the game. « Clock Strikes », eponyme title adaptated in a music video, makes the crow screaming loud. ONE OK ROCK ended this set by « the Beginning » and for their encore ended with the song « wherever you are ». Though a very too short concert, the band still took the time for wearing some bras throwed by fans, a flawless moment.
External Link
Edit
Community content is available under
CC-BY-SA
unless otherwise noted.