Interview

Information
Website
Rocking'On 69
Date
December 31, 2013
Author
Koike Hirokazu
Translator
Dessy
Credits for translation to Dessy. This article originally published on ro69.jp webstite.
Live Report
Edit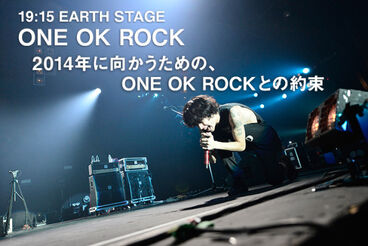 As the loud cheer rose up along with the jingle of "NEXT ARTIST", ONE OK ROCK made an appearance on the EARTH STAGE for the last day! Bathed alone in the spotlight, Taka started singing "Ending Story??" in a stifled voice, which instantly followed by explosive band sound and big sing-along.
While playing their instruments, Toru (G) and Ryota (B) stood with their legs wide apart in both wings of stage stirring up the audience, and the audience started banging their heads to one side. Taka shouted, "COUNTDOWN JAPAN!!" in a strident voice, and one exciting song that's started resounding with Ryota's heavy bass phrase was "Deeper Deeper". As they have sent this pretentious/venturesome rock tune to the second place of Oricon Chart, once again we can feel the unlimited power and vigor of the band called ONE OK ROCK.
A greeting with a voice that's breaking through the cheers, "Today is the last day of 2013, so we'll help you to make this day unforgettable with all of our mights! First of all, hit the stage with your voice!" made the thunderous call to rise and started a speedy melodious "Nothing Helps". "If you got something left unfinished this year, would you try to let out all the doubts with this song? Do you guys like music!? We love music, too!!" Such a direct expression of feeling fired up "Clock Strikes", one track from latest album "JinseixBoku=" with its glorious, synchronized sound which made the audience to sing along in expanding vocals. About touring around many places in Europe and Asia after concerts in Japan (LA live performance is coming up in February next year), Taka spoke his heart out, "Lately, we heard things like, 'ONE OK ROCK doesn't stay much in Japan, right?' and 'Did they come to hate Japan?' but we aren't like that. We're just going around the world for our dream. Please don't say such dreary things. It's because I love you guys the most!".
Once more, Tomoya's (Dr) beat in NO SCARED knocked the audience down, continued with single track "Kanzen Kankaku Dreamer" that gathered up the joy, and the last song "The Beginning" where they shared a promise, "Do you agree, you guys, that we're all the same? That we definitely will take new step forward. No, please step up!" To simply carry out their real thoughts, they keep improving their skill in music and words. Unchanged enthusiasm of ONE OK ROCK, was engraved on the stage. (Koike Hirokazu)
A separated (magazine) supplement focused on pattern of this 4-day festival will be included in the ROCKIN' ON JAPAN March edition (release at January 30th)! There we will post the set-list of all live performances.
External Link
Edit
Community content is available under
CC-BY-SA
unless otherwise noted.