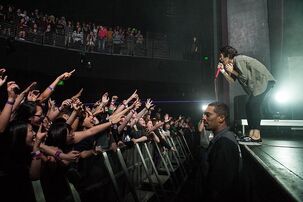 This gig is their first time to live in the United States, which was their dream. Tickets sold out a few weeks before the gig held, around 3200 audiences enjoyed the show. Snow covered Los Angeles at that time, but that didn't make people cancelling to come over.
Ending Story
Deeper Deeper
Nothing Helps
C.h.a.o.s.m.y.t.h.
Let's take it someday
Jibun ROCK
Clock Strikes
Be the light
(Instrumental)
Liar
Answer is Near
NO SCARED
Re:make
Kanzen Kankaku Dreamer
The Beginning
Encore
Wherever You Are
Ryota
(something about the audiences were awesome)
Tomoya

What's up LA? Good job. I am Tomoya.

Something smells fishy. I want an american girlfriend! Any volunteers? I'm not a mind reader! What's up LA!? (he said this more than once)

Toru

You Guys Having Fun?

You guys are fucking awesome!

I'm Toru

We are happy to be here.

Please enjoy our show.

Thank You For Coming Tonight.

Taka

Hi Im Taka and Vocal.

How's my english? Do you understand me? I actually dont know english, I just memorize lines. It's hard for us to memorize long speeches, small speeches are easier to remember.

I went and I memorized small sentences, they're really small…(he held up his hand and made a small finger gesture) that's what she said!

This is our first concert in LA, actually this is our first concert in America.

I promise we'll be back soon, this is just the beginning.

We were born in different parts of the world but music has brought us together.

What time is it?! (audience: "one o'clock!!" repeated this like 3 times) I've always wanted to do that!
LA Weeks released photoshots of this gig. You can check them on ONE OK ROCK Fans Gallery here .