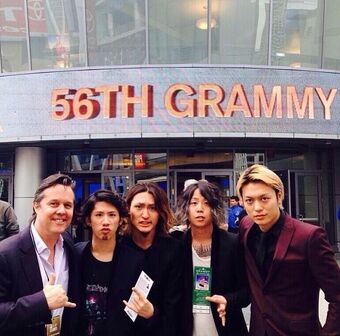 John William Feldmann (born June 29, 1967) is an American musician and producer. He has produced and co-written songs accounting for sales of more than 34 million albums worldwide—2 million alone in 2011 and 2012—and is also the lead singer/guitarist of the band Goldfinger. He is known as an animal rights advocate. He is producer of Jinsei x Boku = and upcoming ONE ROCK's album.
Feldmann started playing music when he was 13, after hearing Mommy's Little Monster by Social Distortion. He moved to LA in 1988 and formed a band called Electric Love Hogs, where he met future Goldfinger bassist Kelly LeMieux. The Electric Love Hogs (which also included Dave Kushner of Velvet Revolver and Bobby Hewitt from Orgy) were signed to Polygram in 1990 and put out one album. The Electric Love Hogs had a scene of their own and many bands that opened for them went on to be very successful. Among them were Pearl Jam, Alice In Chains, Korn, Tool, and Rage Against The Machine. Feldmann formed Goldfinger in 1994 when he met original Goldfinger bassist Simon Williams in a shoe store where they were both working. Goldfinger is widely considered to have been a contributor to the movement of third-wave ska. Among one of those bands that broke out of that scene was No Doubt. The group was signed to Mojo/Universal in 1995 and have toured extensively throughout the world. According to his official website John holds a Guinness world record for his feat of performing 385 shows in 1996.
During his time as an A&R representative for Warner Bros. Records & Maverick Records, Feldmann signed The Used, Destroy Rebuild Until God Shows, Goldfinger, Showoff, City Sleeps, Story of the Year, Foxy Shazam and Mest. He has also done production work/songwriting for The Cab, The Veronicas, Good Charlotte, Mest, The Used, Story of the Year, Ashlee Simpson, Hilary Duff, Goldfinger, Showoff, The Matches, Atreyu, City Sleeps, Anthony Green, Lostprophets, Beat Union, Cute Is What We Aim For, Escape the Fate, Get Scared, After Midnight Project, No Motiv, Foxy Shazam, All Time Low, Allstar Weekend, Panic! at the Disco, Craig Owens, Boys Like Girls, Megan Joy, Jessica Lowndes, Plain White T's, All Time Low, and 5 Seconds of Summer. He has also worked with pop artists like Mandy Moore and Kelis.
John Feldmann house in Los Angeles become ONE OK ROCK's recording studio for the upcoming album.
John Feldmann invited ONE OK ROCK for 56th Grammy Awards
Community content is available under
CC-BY-SA
unless otherwise noted.