This gig is a part of WHO ARE YOU?? WHO ARE WE?? TOUR and their first time gig in Jakarta, Indonesia. They perform all out and make 3000 audiences satisfied. 
Ending Story
Deeper Deeper
Nothing Helps
C.h.a.o.s.m.y.t.h.
Let's take it someday
Jibun ROCK
Clock Strikes
Be the light
(Instrumental)
Liar
Answer is Near
NO SCARED
Re:make
Kanzen Kankaku Dreamer
The Beginning
Encore
Wherever You Are
As usual, all of ONE OK ROCK's member spoke in Bahasa Indonesia to entertain the audiences before Answer is Near.
Indonesian
English Translate
Ryota

Jakarta Mantap!

Indonesia tanah airku, tanah tumpah darahku

Oke, gomen. Sampai sini aja.

Jakarta is awesome!

(singing Indonesia nationality anthem)

Okay, gomen. This is enough.

Tomoya

Selamat malam!

Saya Tomoya.

Saya suka bakmi.

Saya cinta Indonesia! (2x)

Mudah-mudahan kami akan datang kembali

Good night!

I'm Tomoya.

I like Indonesian noodles.

I love Indonesia! (2x)

I hope we can come again.

Toru

Apa kabar?

Saya Toru.

Akhirnya kami datang.

Terima kasih sudah datang.

Mari bersenang-senang!

Mari jadi gila!

Aku cinta kalian!

Terima kasih

How are you?

I am Toru.

Finally we come (to here).

Thank you for coming.

Let's enjoy!

Let's go crazy!

I love you all!

Thank you.

Taka

Nama saya Taka.

Saya senang datang ke Jakarta.

Saya suka sekali nasi goreng.

Saya cinta kalian.

Saya cinta kali-rta!!

My name is Taka.

I'm glad to come to Jakarta.

I really like Nasi Goreng (Indonesian food)

I love you all.

(Maybe Taka mixed up words kalian with Jakarta)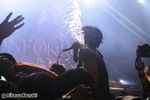 A little accident happened when the audiences entered the stage. The lack of control from promotor cau

sed chaotic in queue.

When Taka climb up fences during The Beginning, a audience splased water into Taka faces. But then confirmed that accident wasn't happen.
The guitar sound messed up during C.h.a.o.s.m.y.t.h.
When checksound, Taka jumped a fence and met with a difabel fan. He make calmed down her, because she can't enjoy the show because her conditions.
Community content is available under
CC-BY-SA
unless otherwise noted.