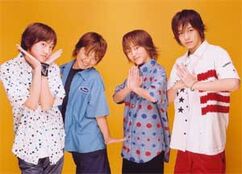 HEADS
is a dance group formerly by two of ONE OK ROCK members.
Toru
and
Ryota
were in HEADS with Kohei and Takuya. The group was also under AMUSE, just like ONE OK ROCK is now. They were also active before their debut and participated in some dance competitions around the years of 1995~1999.
They debuted with a single in 2000 and continued their activities until the very end of 2002. For the whole year of 2003, they took a break to improve their abilities. At this point, HEADS as a 4 member group pretty much ended. They merged into a new group with like 7 other members and were called GROUND 0. In 2004, Toru and Ryota continued their activities as GROUND 0. 2005 was really quiet, but they both started appearing in dramas that year. HEADS also broke up in mid-2005.
I don't ever remember (or even find) a specific reason for their break up. However, I think the reason could be that they just weren't popular enough as a group. AMUSE wasn't such a giant company back then, and there were boy groups from other big companies (like Avex, but mainly Johnny's) that had a lot much more publicity and popularity.
I believe that they started acting and the band because of the failure/end of GROUND 0, as well as a shift in their personal interests.
ONE OK ROCK was formed around the time HEADS broke up. Toru, Ryota and Alex met since they were in the same high school. Toru once said that after meeting their old drummer (Koyanagi Yu), they decided to start the band purely for fun. Taka and Tomoya joined afterwards.
External Link
Edit
Community content is available under
CC-BY-SA
unless otherwise noted.