Fall Out Boy
Background
Origin
Wilmette, Illinois, U.S.
Genres
Pop punk
pop rock
alternative rock
pop
Years active
2001 - 2009
2013 - present
Labels
Uprising
Fueled by Ramen
Island
DCD2
PAX AM
Associated acts
Arma Angelus
Project Rocket
Racetraitor
Panic! at the Disco
Black Cards
The Damned Things
Enabler
Wiz Khalifa
The Cab
Websites
Official Website
Facebook
Twitter
YouTube
Instagram
Members
Current members
Joe Trohman
Pete Wentz
Patrick Stump
Andy Hurley
Past members
Ben Rose
Mike Pareskuwicz
T.J. Kunasch
Brandon Hamm
Fall Out Boy is an American rock band formed in Wilmette, Illinois, a suburb of Chicago, in 2001. The band consists of vocalist/guitarist Patrick Stump, bassist Pete Wentz, guitarist Joe Trohman, and drummer Andy Hurley. The band originated from Chicago's hardcore punk scene, with which Wentz was heavily involved. The group was formed by Wentz and Trohman as a pop punk side project of their respective hardcore bands, and Stump joined shortly thereafter. The group went through a succession of drummers before landing Hurley and recording their debut album, Take This to Your Grave (2003), which became an underground success and helped the band gain a dedicated fanbase through heavy touring, as well as some moderate commercial success. Take This to Your Grave has commonly been cited as an influential blueprint for pop punk music in the 2000s.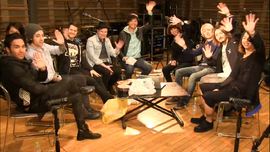 ONE OK ROCK and Fall Out Boy finally met in a radio show on April 2013. Patrick said that the upcoming album is a birthday gift to Taka due to the release date is the exact date of Taka's birthday.[1]
References
Edit
Community content is available under
CC-BY-SA
unless otherwise noted.