This gig is a part of ONE OK ROCK first United States Tour in 2014 and finished that tour. Their dream became true after playing at this venue. 
Before the show
Edit
For their previous various interview, ONE OK ROCK dreams is to have a chance to play a gig in USA. Before
WHO ARE YOU?? WHO ARE WE?? TOUR
starts, ONE OK ROCK finnaly announces their first concert in United States, including two venues in New York and Los Angeles. Despite their concerts starts in February, ONE OK ROCK already arrived in Los Angeles at June 12, 2014. Then revealed they going to recording album in that country, together with their producer John Feldmann.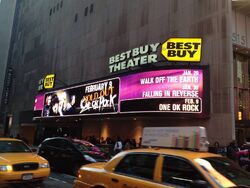 Their tickets in Best Buy Theater already sold out 2 month before the dates. 
Ending Story
Deeper Deeper
Nothing Helps
C.h.a.o.s.m.y.t.h.
Let's take it someday
Jibun ROCK
Clock Strikes
Be the light
(Instrumental)
Liar
Answer is Near
Re:make
Kanzen Kankaku Dreamer
The Beginning
Encore
Wherever You Are (Acoustic Set)
NO SCARED