Credit goes to oneokrockblog.tumblr.com and you can visit the original post here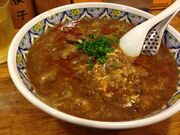 The taste is really just like its name. It's Tomoya.
TV Asahi's Dream Festival has ended too, a few days ago, we were invited to our seniors MAXIMUM THE HORMONE's Yoshuufukushuu tour, and participated in the live!
When this live was decided, imagine just how happy I was…! I threw all of those feelings into the live.
Although I did hear rumours about it, I think it was too hot! I felt like I was going to lose my consiousness over and over but… I came back to life safely.
The audience was amazing too. Anyway it was a totally awesome live. Thank you so much!
I also handled my 4th post-live headbang of the year without problems, and it's also the 4th time of the year that I received motivation from a performance and music that can only be called a masterpiece.
Seriously, each time I see our seniors MAXIMUM THE HORMONE, they provide us with so many different things. It's really great that we could do this together. Thank you.
My remaining health points weren't supposed to be unlimited, and were running low but, there were absolutely no signs of the after-party ending… Before I realized it, I was still partying after 3AM.
Well, it was a good day!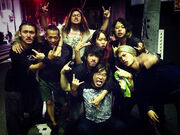 This photo is a photo we took at the end with all of the members! 

Lately we've been in the studio working hard for our acoustic live.
We'll put all of our spirit in it so look forward to it!
See you, see you.
Tomoya
External Link
Edit
Community content is available under
CC-BY-SA
unless otherwise noted.