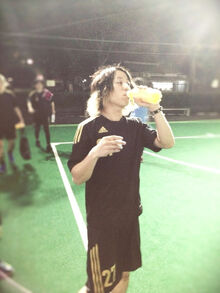 Credit goes to oneokrockblog.tumblr.com and you can visit the original post here.
I started a diary. I wonder if I'll keep up with it. It would be nice if I could. It's Tomoya.
A soccer team was made and, the other day we met up and kicked around a whole lot.
But it's no joke how much of your physical strength gets drained up. When I think about how I used to run around almost everyday during my younger days, I realize that my current self has gotten extremely heavy lol
Ball games like baseball, tennis, table tennis, I really love all of them but soccer is something I'm not good at.
If I had to explain the reason, it's because I'm as slow as it's rare for the unusual play of a ground ball to happen in baseball. That's covered with momentum.
Either way, it's nice to move my body around! It was fun!
Annnnyway I look weak. lol

From tomorrow I'll be going to a certain place. I'll update the blog before long! See you, see you!
Tomoya
External Link
Edit