Credit goes to oneokrockblog.tumblr.com and you can visit the original post here
Hello, it's Ryota. Everyone, it's been a while!
Thank you to everyone that came to Sky Jamboree. I was worried that it might get cancelled because the rain was horrible but I'm glad that it ended safely!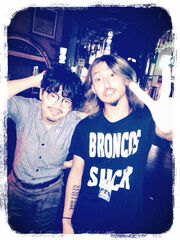 Everyone was stuck in the heavy rain and worked really hard. Thank you!
The live was really fun too! The way people from Nagasaki get wild was so crazy that it seemed like the barrier fences were going to break (lol)
I'm looking forward to seeing everyone in Nagasaki again!
At the live's after party, I got the chance to have a nice conversation with OKAMOTO's Hama for the first time, we're both bassists and our ages are close, we hit it off really well, it was quite fun.
If you haven't seen how Hama plays, then I want you make sure to go watch their live!
Whenever I see him playing, I get motivated too!
Guess we have 2 more shows left for this year's summer festivals.
I'm looking forward to seeing everyone at SWEET LOVE SHOWER.
Ryota
External Link
Edit