Interview
Information
Magazine
Yomiuri Newspaper
Website
http://www.yomiuri.co.jp/
Date
January 25, 2013
Author
Editor from Yomiuri Newspaper
Translator
Dessy
This article originally written by Yomiuri Newspaper on January 25 2013 issue. You can read the original article on link below. Credit for the translation to Dessy. 
Translation
Edit
All of the sudden but dear readers, do you know about the band named ONE OK ROCK? Has released double A-side single "Deeper Deeper/ Nothing Helps" at January 9th and was ranked 2nd on Oricon Daily Chart at January 10th; it is said as the band which its activity is the most expected this year.
TAKA the vocalist of ONE OK ROCK is actually the eldest son of Mori Shinichi and Mori Masako―the leading figures in music industry, named Morita (Masako's family name) Takahiro. Acknowledged by its emotional yet full-of-speed music with English lyric that describes song with high level performance, was successfully doing 2-day shows at Yokohama Arena in January last year and such, ONE OK ROCK is showing up the strength even in show business side. But there's a number of frustrating events on what Taka has been through so far.
Leaving Group, Dropping Out of School, Parent's DivorceEdit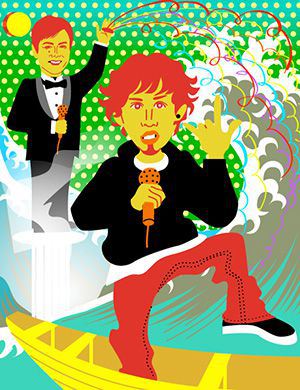 It was all started from "Erimo Misaki*". In October 2001, TAKA who just joined Johnny's Jr that time made an appearance on TV Asahi's Music Station. He performed the same song which represents his father, Mr. Shinichi with all his hearts. The 13 year-old boy started his celebrity life and becoming well-known on the internet all over the country as solo singer. You would understand how big that attention and expectation towards him was.
Then in September 2003, TAKA joined Johnny's new unit, NEWS. Having debuted in the same unit as Yamashita Tomohisa who's already getting his popularity among Johnny's Jr (Yamashita left the group in 2011), TAKA got more attention. However, just three months later, TAKA left NEWS in December. That time, he was attending Keio University-affiliated junior high school officially to concentrate himself on studying. But as in reality his scandalous "sleeping together with a girl" picture was published in monthly magazine "BUBKA", it's said that leaving group was his punishment. Quitting Johnny's Association and stopped studying at Keio University affiliated school afterwards (then transferred school to Horikoshi High) were TAKA's further ordeal. In April 2005, his parents Mr. Shinichi and Mrs. Masako decided to get a divorce.
As far as I remembered, it was divorce drama with the most overheated news coverage. In consecutive days, friends of the husband/Mr.Shinichi and friends of the wife/Mrs. Masako accused each other on TV and weekly magazines. Shinichi's side accused Masako for "almost never doing any housework" and "abandoning her family to restart her singing career" while Masako's side said "Shinichi is too tight with money and ruling his family too much" and so on. Every day, doubtful and misleading stories flew around.
During the divorce, it's decided that the residency of second and third son belonged to Mr Shinichi while for some reason the eldest son, TAKA was into Mrs. Masako's custody. This was also reported as the cause of discordance between TAKA and Mr. Shinichi.
However, TAKA started his band activity in 2004 without even bothered by such big storm in his personal life. In the following year, he formed ONE OK ROCK and then earnestly did many live performances. He didn't make use of his father, Mr. Shinichi's reputation or even his popularity as ex-Johnny's member. With single "Naihi Shinsho" which was released in April 2007, this band made its major debut. Slowly but sure getting better ability and more popularity, recently their songs became movie soundtrack and CM song etc; he just reached the point we can say as the "last night's big hit".
How is it, the scandal of parent-child singers of two generations? It's been 60 weeks this year since the broadcasting of ground wave television has begun and to find this kind of story among celebrity news is the real thrill.
External Link
Edit
http://dnooriani.wordpress.com/2013/12/19/taka-eldest-son-of-mori-shinichi-45-has-recovered-from-desperate-situation-2/